Gunnar Kryger was one of the many Danes who sailed for the Allies, and thereby contributed to the victory over Germany.
by Gunnar Kryger
These memoirs were written written by Gunnar Kryger. He was one of the many Danes who sailed for the Allied during the war as a merchant seaman, and thereby gave their contribution to the fight against Germany and the freedom of Denmark. Of about 6000 Danish sailors in allied service, about 3000 of them lost their life on the sea
In 1946, Gunnar, became a citizen of the USA. He retired from U.S. Lines in 1983 and died in 2005, 83 years old. Unfortunatly before he finished his memoirs for Danis Military History.
These memoirs cover his experiances from 1940 until 1943.
I was born in Copenhagen in 1922 the son of Typographer Knud Kryger. Not really knowing what I wanted to do I worked as a "Bud" for Hovedstadens Brugsforening in Hellerup until I was 16 years of age, at which time I transferred to Christianshavn. When I was 17 I applied to the Danish Navy for admission to the cadet corps. I was accepted and was to report in the fall of 1940. This gave me a chance to spend some time on a merchant ship, and since the war had just started in Europe in Sept. 1939.
I had no trouble finding a berth. I signed on as a messboy on the icebreaker "Thor". This ship had been mounted with 2 small guns and was anchored in Copenhagen harbor, acting as a pilot supply vessel to ships entering and leaving Copenhagen through the minefield which had been laid by the Danish Navy. When the "Thor" was needed for ice breaking the "Gertrud Rask" took its place, and I was transferred to that ship.
In March 1940 We were all laid off because the ship was to be readied for it¹s voyage to Greenland. I then got a job on the oil tanker "Calliope" as a messboy. Said vessel was in England, and abt. 17 Danes were sent by plane to join the vessel. When we arrived in New York late April 1940 I signed off, and after a stint as O.S. on the "Penelope" I signed on the "Intrepido" as Ablebodied Seaman. I made one trip abd. this horrible vessel, from N.Y. around Cape of Good Hope up to Egypt, to India, to South Africa, to Brazil and back to N.Y. A trip that took 11 months and 3 weeks.
When I arrived back in New York in Sept. 1941 I decided I wanted a rest. I just wanted to stay ashore for a little while. At that time we were allowed 60 days shore leave before shipping out again, but as a seaman I was not allowed to work ashore. However, as I soon found out nobody paid much attention to that and I soon found myself working as an elevator Operator at the Hotel "Greystone" on Broadway and 91st street. These were happy days for me. People were nice, I had a girlfriend, I felt I belonged.
Then came Pearl Harbor. December 7th 1941. Along with thousands of young men I lined up on the sidewalk, ready to join the U.S. Navy. I passed the physical, signed on the dotted line, corrected the Petty Officer as he typed in :"U.S. Citizen", and said, :"No, I'm a Dane." He looked at me and apologized profusely, thanked me for wanting to volunteer, but explained that the Navy were not accepting foreigners at this time.
I was disappointed but continued with my job at the Hotel. During this time I was in contact with my family in Denmark. We exchanged mail regularly, and we all learned to read between the lines. As 1942 rolled around the German U-boats took their toll on the east coast. We saw pictures of ships sinking just a few miles outside N.Y. harbor. I began to feel guilty, I should be out there helping to win the war.
When February came and more ships were sinking I decided to bite the bullet and shipped out as O.S. (Ordinary Seaman) on a swedish vessel named "Eknaren", chartered to the British Ministry of War. The ship was docked in Baltimore, Maryland, loading planes and various war materials for the british forces in North Africa. Again, we were to go down to Cape of Good Hope, refuel and then head for the Suez Canal. The ship was painted gray from stem to stern, but did not carry any guns.
It was the first of April 1942 when we left Baltimore, Maryland. As we approached the open sea I became apprehensive as I watched the Bay Pilot putting on his lifejacket. A short while later we passed a ship that had been sunk. We were still in inland waters and it was an uncomfortable feeling watching the ship sitting on the bottom with only the stack, masts and part of the superstructure showing.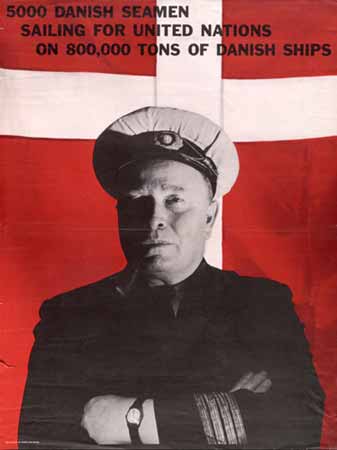 After disembarking the Pilot we went full speed ahead, (abt. 9 knots) heading for Cape Town. It took exactly one month to reach the Cape of Good Hope. We were only in for refueling so after a few hours ashore we continued on to Aden and Port Sudan, again only for refueling. Arriving in Port Tewfic, Egypt we found the harbor full of ships of all nationalities. The town was overflowing with British and Australian sailors and soldiers.
I bought several wallets and 2 ladies handbags, one for my mother and one for my sister in law. (After all, to my way of thinking, the war would be over before we got back to Baltimore). The weather was balmy in the daytime and rather cool at night, but the seas were smooth, the ship was spotless, the food was good and we were heading away from what we considered the war zone. At around noon time on the 30th of June one of the Oilers was walking back after with a pot of coffee when he heard people calling.
He looked around, saw no one and started towards the aft house again when he realized the calls came from out over the water. He alerted the bridge and the ship was stopped, a boat launched ,and while they rowed out to the 6 men who were clinging to one another we sailed around in a circle so as not to be a sitting duck. After they were safely abd. we found out they were the Master, 2nd. Assistant Engineer, both Norwegians, and 4 Chinese crewmembers from the Norwegian merchant ship "Goviken". The ship had been torpedoed at 2330 on the 29th of June.
Originally there were 7 survivors but at noon time the 70 year old Chief Engineer gave up all hope, took his lifebelt off and slid under. Their situation was hopeless and it was agreed they would hold out until sunset.
We were in the strait of Mozambique, extra lookouts were posted, and a sleepless night passed slowly. At abt.1500 the 1st. of July as I was back aft having coffee I heard a thunderous bang. I looked out the porthole and saw the electrician standing there with both hands held together. He was always in a good humor, ready for a joke, but I wondered how he could have made such a loud noise just by clapping, when a big splash appeared on the port quarter, followed by a big bang.
This made me look out over the ocean, and lo and behold, there was a submarine on the surface. The ship was stopped, our swedish flag raised, and our signal flags:" I abandon ship" went up. 3 more shots were fired, all landing in the water. We lowered 3 of our 4 lifeboats and rowed away from the ship. The shelling stopped as we lowered the boats. We were well away from the ship, when we again saw the sub, broadside to. Most of us had put our rubber lifesaving suits on, but being black and watertight they were very hot in the sun.
It took abt. 45 minutes for the sub to send a torpedo into the engine room, right under the midship. The ship broke it's back, an enormous column of debris went straight up in the air, the ship began to list, the stern started to sink, the vessel rolled half over, lower and lower she sank, finally the bow pointed straight up in the air, and with increased speed she slid straight down below the surface. It was an eerie feeling. The actual sinking took 3 1/2 minute as timed by one of the sailors. I felt abandoned. The boat was so little, the ocean so big.
After the sinking the submarine slid away silently not to be seen again. We rendezvoused with the other 2 lifeboats and agreed to try to stay together during the night, having set a course for the coast of East Africa. The boats were built to carry 50 passengers. They were wooden boats and since we were in the tropics the wood had shrunk , allowing the sea water to pour in. Someone had to bail the water out continuously. As the sun set it also cooled down, and here I was in a pair of shorts and no shirt.
I had grabbed my camera, passport and a gallon jug full of water, but no clothes. One of the sailors had a small suitcase with him and I asked if he had some thing I could wear. He shook his head but the Chief Mate said: open it up, you must have something in there, he can wear". He had a nice sweater, but told me I could not borrow that, because his Aunt had made it. Begrudgingly he condescended to let me borrow the top of a pair of cotton pajamas.
Drinking water was stored in 2 wooden barrels with a spigot. The Captain had put a bottle of Brandy in each boat, just enough for a shotglass full for each of us, and it felt good. Water was rationed to one shotglass full, morning and night. Food consisted of cans of sardines mixed with thick, creamy condensed milk with very hard bisquits mixed in. Not exactly a 7 course dinner but certainly one of the best meals I've ever had. We had the Chief Cook in our boat, and when one of the crewmembers commented on the fine meal he had served, he actually started crying. " After all the good food I've served on the ship nobody ever mentioned a word about it and now I'm being congratulated for making this mess".
When daylight came on the 2nd of July there was no sign of the other 2 boats, but around 0900 we saw land on the horizon. In addition to our sails we also rowed, even so it was late afternoon before we landed on Fogo Island. We pretty much ignored the lifeboat and ran up to the lighthouse, hoping somebody had seen us and would at least have coffee on for us. As it turned out nobody was there, only a sign in swedish saying:" Aga automatic lighthouse".
Back to the beach we went so we could save the boat before it drifted away. The boat was still there, but the rudder was broken, the mast was broken, and it was all we could do to save the boat from destroying itself on the beach. We took everything out of the boat, Food, water, the sea anchor, flares, charts etc.
In the evening we placed the sail high up on the beach and used it as a matress. We set watches 3 hours each, 2 men on watch. A fire was lit and kept going through the nite with driftwood. I slept in my rubbersuit for warmth. Some time before morning I felt something moving on my leg. I sleepily shook my leg, but it was still there. I then chased it off wit a sweeping motion of my hand. Opening my eyes I saw it was a rat, but he just wandered away.
Friday 3rd of July was spent repairing the boat best we could. Another crewmember and I volunteered to walk around the island too see if we could find anything of value such as drinking water or fruits. Needless to say, I felt like Robinson Crusoe, but instead of footprints in the sand, I saw nothing but crabs and rats.
Saturday 4th of July 1942
It was agreed to set sail for the mainland, and at sunrise we headed for Mozambique, Portugese East Africa. The weather was now stormy and our progress was slow.
Next day, the 6th of July found us sailing along the coast looking for signs of life. Eventually we saw 2 small white houses and a lighthouse. We continued up the coast, turned around and went back a way.
Soon we saw people running around on the beach and soon they came running out with small boats trying to pass the gigantic waves, but they were tossed high into the air and had to give up. They signaled with their hands where to land, and we although we nearly went stern over bow we made it.
Sitting in the bow of the boat I jumped off as soon as we struck the beach. My feet had been in water for the whole time because of the leaking boat, and I did not realize how tender they were until I tried to walk on the sand. I put my soaked shoes back on and helped to haul the boat up on shore. Luckily we had a Mexican messman who was able to converse with the Portuguese Lighthouse keeper.
We explained the situation to him and the first thing he did was to have his cook prepare a meal for us. We all sat at one enormous dining table, and when the food was served the platter started to go around from my left side. When it finally reached me all the chicken was gone. Oh well.
It so happened a small dutch ship, aptly named " Holland", was leaving in the morning with a load of salt for Beira, Mozambique. We hitched a ride on her, arriving there the next morning, just in time to see the morning edition of the english edition newspaper. They mentioned the fact that the Eknaren had been sunk, two boats had landed safely, and one was still unaccounted for.
We stayed in Beira until the 28th of July when we were flown down to Lourenco Marques to board the "GRIPSHOLM" which had been chartered to assist exchanging citizens to their own country. The ship had brought 1500 Japanese civilians from New York simultaineous with a Japanese ship which had brought 1500 Americans from Japan and they were all exchanged in L.M.
To make the whole deal "legal" we were signed on as crew members for a penny a month, but went back to New York via Rio de Janeiro, sailing with all lights on, "DIPLOMATIQE" painted on the sides. Red Cross Painted and lit up on the stack. Our position radioed out every 4 hours.
Arriving in Lorenzo Marques (Now Maputo) in Mozambique we were herded to the Swedish Consulate where we were paid off… in Escudos… The exchange was about 25 to 1 US Dollar and we were sailing in 3 hours. Having lost all my clothes, I went to a big clothing store and bought shoes, pants, shirts etc. and when the shopkeeper saw that I had a pocket full of money he asked me if I wanted to buy Dollars cheap.
It turned out that the Japanese nationals, 1500 of them, had exchanged their Dollars for escudos so they would have neutral currency arriving in Japan. It was a good exchange, I wound up getting my clothes for nothing. Leaving for Rio de Janeiro in the afternoon I looked forward to a pleasant trip across the Atlantic. The ship had been turned in to one class only, we had dances, movies, 2 or 3 bars, indoor and outdoor swimming pools, and lights all over.
After a few days I became bored and asked if I could help bring beer up to restock the bars in the morning. The offer was readily accepted, and as payment I received free beer and a shot of Swedish Aquavit daily. Somewhere in mid-atlantic a burning hull was discovered and we circled around it but found no sign of life. A tremendous welcome was bestowed on us when we arrived in Rio about 1700. I went ashore, saw a movie, stopped in to have a beer before going back aboard. 3 men aproached me, struck up a conversation with me.
Their german accent came through loud and clear, so I excused myself and left. They followed me, and not knowing my way around I found myself wandering away from the more populated area of town. They were about 200 feet behind me, so whenever I turned a corner I started running to increase the distance between us. Finally I heard a cling-clang from a streetcar and I took off in that direction. I was lucky enough to find a main street and jumped on one of the open streetcars and as luck had it I found myself on the way back to the ship.
We pulled out of Rio the following morning 0600 having left several passengers and crewmembers behind. There was no waiting for anybody. We had bunkered and stocked up on fresh water and food. With so many passengers aboard water was scarce, and it meant salt water baths only. It did not take me long to notice 2 beauties on the ship. They were twins from Siam (Thailand now, of course ) but not "Siamese twins". I wanted so badly to be noticed, but they ignored me completely, plus they were always chaperoned.
The rest of the trip was uneventful, I would sit on deck enjoying the beautiful weather, watch a movie, jump in the swimmingpool, and talk to all the different passengers, always keeping a sharp eye out for the 2 beautiful Siamese girls. Not once during the whole trip was I able to meet them.
Pulling in to New York Harbor was an experience in itself. We had sailed with all lights on, the smokestack lit up with the red cross insignia, and ligths shining over the sides over the swedish flag and the word: "DIPLOMATIQUE" in large letters. That in itself was quite an experience in the dark days of 1942. We were welcomed by tugs saluting us with firehoses spraying water and their steam whistles blowing. Planes flying overhead dipping their wings, what a day. My meager belongings were packed, and I was ready to go ashore.
Leaflets were distributed to us informing us that each passenger would be subjected to scrutiny by the Immigation Authorities, and to be prepared for a stay of up to several days. The American Ambassador, Joseph E. Grew, was the first person off the ship. The Siamese twins and their entourage followed.
That puzzled me, of course. It was'nt until 3 days later when the crew of the "Eknaren" was finally permitted to go ashore, I saw in "Life magazine" that the 2 pretty girls from Siam were really Pricesses. (I still kid my wife about how close I came to be the King of Siam).
My ambition was to go to school to become a Radio Operator, so I visited the Merchant Marine Church Institute in Manhattan for guidance. They informed me that R.C.A. gave such courses, but that it would take about 8 months and that I could not get an American license unless I was a U.S citizen. Why dont you go to Navigation school and become a Mate, they asked me.
The thought had not occurred to me, after all I only had about 14 months of sailing on deck under my belt. It turned out the U.S. Coast Guard had just lowered the required sailing time to 14 months. I jumped at the opportunity, plunked $50.00 down, total coast of the course, and the following day found myself in school again. I was now 20 years old, eager to learn the art of navigation.
We finished the course in December, and Knud found a berth and shipped out as Third Mate. By this time I was broke, I went from Shipping Co. to Shipping Co, but the answer was always the same :" Come back next week".
Finally at Standard Oil I landed a job as Ablebodied seaman for one trip, with the promise I would be promoted to Third Mate upon our return. The tanker I was assigned to was the "Phoebus", an old rusty vessel sailing under the Panamanian flag. We went in convoy down to Venezuela for a load of oil, assemled in Trinidad for a northbound convoy to New York.
It was now January 1943 and bitter cold. Our oil was destined for Portland, Maine but since the Nazi subs were very active in the North Atlantic we took the "scenic route" up the east river, through Long Island Sound, the Cape Cod canal and into Portland. After discharging our cargo, it was the same way back to New York again. We docked on the New Jersey side, and when the Port Captain came aboard and informed me that I would have to make one more trip as a Seaman I quit.
I had no trouble landing a job as Third Mate on the "Cloverbrook". The ship was in Mobile, Alabama, and I flew down there a few days later. The ship was in the shipyard for extended repairs. It turned out to be an older vessel, well built, Mahogany paneling in the Officers Mess, and a beautiful mirror on the back bulkhead.
She had been turned over to the US Government from Bulgaria and was now flying the Panamanian flag, sailing for "Alcoa Steamship Co." The Captain and Chief Engineer were Norwegians, The Chief Mate was an old swedish Captain of sailing ships. The Second Mate was a Bornholm Dane from whom I learned a lot.
I found a room in Brooklyn, which at that time was very Scandinavian. I was close to the subway, only a 15 minute trip away from downtown Manhattan where the school was located. I met several Danes who were between ships, and ate my meals at a danish lunchwagon, the forerunner of the fast food restaurant. They were really converted streetcars and there are still a few left here and there.
Schooling did not come easy to me. We were about 20 students, each of us working at our own pace. The 2 instructors were knowledgeable and patients. After abt. a week or two I ran into a friend of mine I had sailed with. Knud Hemmershoj Nielsen had just survived a torpedoing in the Caribbean sea. He should have been attending the Navigation school in Denmark but the war had interrupted that. It did not take long to convince him to come with me to Manhattan. We found a room and moved in together.
After about a month in the shipyard we left to form a convoy at the delta of the Mississippi river. It was my first time as a watch Officer and I had expected the Captain to be on the bridge in command, but he just left me alone in full charge. The Chief Engineer had told me previously that he was senile. I now realized he was just a warm body, and absolutely useless.
Our convoy took us to Trinidad, where we unloaded general cargo. From there we sailed without escort to Paramaribo in what was then Dutch Guiana, for a load of Bauxite. Then back to Trinidad for a convoy to Key West. At Key West we broke out of the convoy and proceeded alone towards Mobile. This was one of the few times the Captain came up on the navigation bridge. He looked around and said:" Steer for Rebecca Shoal when you see it".
He left the bridge and I went in the chart room to see how far we had to go. Checking the chart I saw the depth of the water was only 20 feet and we had a draft of over 26 feet. I called him to the bridge, but I could not change his mind. I saw the Chief Engineer walking on the deck and asked him to call the Second Mate.
It was almost noon and time for me to be relieved. The Second Mate came up, looked the situation over, relieved me, and told me to get the Captain up on the bridge. The Captain came up and the Second Mate told him to take the watch and be in command. Next thing, we touched bottom, the vessel shook again and again. The Second Mate countermanded the Captains order for a hard right rudder, and we turned to port and got out of that mess. It was entered in the log, said entry was promptly erased by the Captain, (strictly a no no.)
When we arrived 2 days later in Mobile the US Coastguard came abd., held an investigation, removed the Captain from the ship, replacing him with a Yugoslavian Master. We left in convoy from the Mississippi delta, bound for Key West to join a convoy coming from New York. The "Cloverbrook" was a coal burner and we had a full load of coal in # 3 hold and also in the two small reserve holds on either side.
It was Saturday, 3 April 1943 and I was on watch from 0800 till 1200 when it was reported that there was a fire in the coal bunkers. I rang the General alarm and shuttered to think what could happen. Our cargo consisted of Ammo, gasoline in drums, acid in enormous glass bottles stored on deck. I kept a record of the log from those days, and what follows is a true word by word account from the log book.
April 3rd 1943 Saturday. At sea. Announced firein hold#3 up against bulkhead in lower holdport side. All hands fighting the fire.Showeling coal away. One hose in use. Stewards dept. putting extra food in lifeboats. 2300 Fire under control. Pouring water into
the hold.
April 4th 1943 Sunday. At sea
Continue fighting fire in #3 lower holding coal bunkers with water and also shoveling coal away from port bulkhead.
April 5th 1943 Monday. At sea. And at anchor Key West
0100 Called all avaiable hands on deck to fight the fire in #3 hold, as fire in coal bunkers are spreading. Shoveling coal away from bulkhead and pouring water on it.
1200 continuing pouring water into hold #3 to keep fire down.
1235 Received permission to proceed to Key West because of fire in #3lower
hold coal bunkers
April 6th 1943 Tuesday. At anchor Key West.
0000-0800 During the watch water were poured on bulkhead between #2 and #3
hold to keep it cold, because of the fire in the bunkers.
2000 Continuing pouring water into hold #3
April 7th 1943 Wednesday. At anchor Key West.
0800 Owing to fire in #3 hold water were poured on forward bulkhead to keep
it cold.
1200 Barge alongside to unload coal from hold #3.
1230 Started moving cargo from hold #3 to thetop of hatch #2. Coast Guard, gun crew and own crew.
1640 Temperature of hold #2 was 74 Fah.
1730 Finished moving cargo
2400 Continued all night to spray water on bulkhead between #2 and 3 hold to keep the temperature down.
April 8th 1943 Thursday At anchor Key West.
Continued to spray water on bulkhead in #3 hold to keep the heat down.
1945 Fire boat alongside. Using the emergency hose when necessary.
April 9th 1943 Friday. At anchor Key West
Working coal all night. Fireboat's and own hose in use during the night to keep the fire down in #3hold. Working coal continuously.
April 10th 1943
Finished discharging coal from #3 hold. After cleaning #3 hold lumbers were renewed over port side bilges where it was found necessary as former lumber were partly destroyed during the fire.
End of log . We left the following morning for the 90 mile trip over to Havana to bunker. We had enough coal in the two side bunkers to get us there.
[This is also the end of Gunnar Krygers memoirs]